This Is For Our Family
"The concept of this shirt was to celebrate our Immigrant parents who paved the way for us to achieve success and our dreams. My sister recently became a certified surgeon and I wanted to celebrate her success that is 100% also my mothers success."
- Sarita Fernandez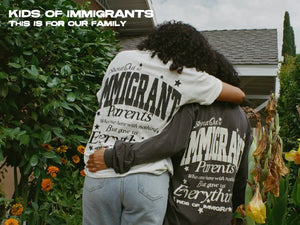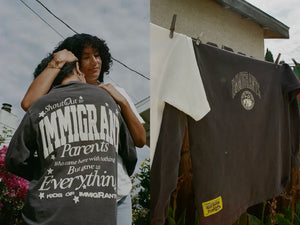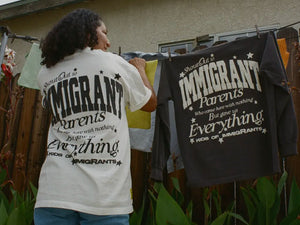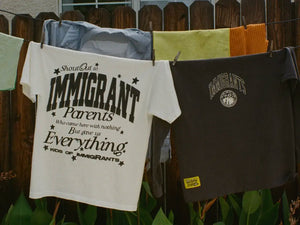 We Are Our Parents Wildest Dream
Interview by Evelyn GonzalesPhotos by Thalia Gochez
As kids of immigrants we are aware of the journey our parents have taken to arrive on US soil, they come from different countries, cultures and share different stories. Their courage, vision and determination are common traits that have set the blueprint for us, with the hopes of us being able to one day pursue our own dreams. The most recent Kids of Immigrants "This is for Our Family" capsule was inspired by our parents who came here with nothing but have given us everything. Sarita Fernández, a Salvadoran-Mexican creative and friend, reached out to the team inspired by the messaging on our shirt. She wanted to share her family's story with us and our commUNITY. Check out our conversation below:
Sarita Fernández, Creative Director for This is for Our Family Capsule
What sparked the idea to shoot your sister and mom for this lookbook?
The concept of this shirt was to celebrate our immigrant parents who paved the way for us to achieve success and our dreams. My sister recently became a certified surgeon and I wanted to celebrate her success that is 100% also my mothers success.
Seeing how Jasmine, Sarita's sister, was a focal point of what inspired the lookbook we wanted to get to know more about her as well:
Jasmine Fernández
Congrats! You are an inspiration for many of us, especially as kids of immigrants. What specific area in surgery do you focus on?
I'm a first year Obstetrics & Gynecology (Ob/Gyn) resident at LAC+USC Medical Center. Ob/Gyn is a surgical specialty that incorporates longitudinal primary care regarding sexual and reproductive health along with gynecologic surgery. Basically, that means I'm involved in helping people with a uterus through everything from pregnancy to birth control to hysterectomies! (and more)
At what age did you decide to pursue your career, like "I'm gonna do this!"
It's been a very winding road, but I had an idea I wanted to be a physician at a pretty young age. Having gone to work with my mom to clean houses on the West Side, I knew how hard it was to make a dollar. My parents always told us, "Es mejor trabajar con la cabeza, que con el lomo." It's better to work with your head than your back. At the time, I knew I loved learning and was good at school, so figured I'd go down the route of getting an education. (It's funny how knowing you have nothing to fall back on can be such a strong motivator.) By then, I had witnessed my father's struggle with chronic pain and had developed a specific interest in learning about the human body and the reasons for why things go wrong. So by default, "doctor "became my go-to answer whenever anyone asked me the question "what do you want to be when you grow up?" I think I was about 10 when I had this realization.
Then, in ninth grade, my biology teacher decided to assign a one page essay outlining our life to a classroom full of mostly kids of immigrants - many of whom didn't have parents who went to college. Nothing to do with bio. He wanted us to take the week to research what we wanted to do and the steps to get there - starting from retirement and working our way backwards to this moment in high school. It was the first time I was asked to craft the life I wanted for myself. It was my first practice in intentionality. It solidified in my mind that this could be something I could achieve, even if I didn't know anyone who'd done it.
Since then, I've had many experiences that challenged my desire to go into medicine and others that affirmed it. All to say, it's hard to say that there was any one given age in which I decided to pursue my career. It's something that has continuously evolved at every stage in my life as I've learned more about my passions in the field and struggled with the reality that it's a field that wasn't made to have people that look like me in this role. Honestly, sometimes I still pause and think about how I'm living a life I couldn't really imagine.
Are your parents a motivational/inspirational point to your career?
On our long drives home from work, my mom would often ask me things she felt too intimidated to ask her doctor. "Uno no les importa." They don't care about us - was a common theme between conversations about blood pressure meds and cholesterol. I chose medicine because I witnessed how my parents struggled with the medical system, and I wanted to become the doctor they deserved.
As an Ob/Gyn at LAC+USC, a hospital frequented by many family members, I see my mom in my patients. And it challenges me to handle every interaction I have with them with that same level of care. It reminds me that I am here to help heal, not just to treat.
We wanted to thank Sarita for bringing her sister's story to life along with Thalia Gochez, our friend and the photographer behind the "This is for Our Family" lookbook. This shirt was so near and dear to our hearts. We hope that this shirt continues to be a beacon of hope that anything is possible.
As a model, creative and so much more, how has your roots inspired your work?
My roots are the very epitome of my art and work. My work has to feel genuine, if it doesn't feel close to home or close to my heart it's lacking authenticity. This is why my culture is so essential to me when it comes to creating.
At times, our parents don't fully understand our creative expressions. How has this motivated you?
Being a creative is not the norm for immigrant parents, but this has challenged me to push for a dream that is not only for my parents but is also mine.