LOOKBOOKS
Fall 2023 Collection
Introducing the new "Our Story" Fall Collection with new silhouettes including the distressed Work Jacket, Work Shirt, Cardigan and much more. Our stories are evidence to the power of diversity and the beauty when different cultures come together creating something truly extraordinary.
Read Article
La Copa Es Nuestra
Together with Telemundo and our community, we've come together to celebrate the Women's World Cup—a historical moment in time, honoring those who've paved the way on and off the field, a badge of pride honoring our rich upbringings and diverse cultures, a gentle reminder to reconnect with the power of your imagination, and to dream big because — anything is possible. No matter where you are in life or the journey it took to get there.
Read Article
Casa Piña
Kids Of Immigrants and Buchanan's Whisky kick the summer off an exclusive capsule to celebrate the new Buchanan's Pineapple.
Read Article
Fruits Of Our Labor
We are 7 years IN!! Full of love, support our friends, empowerment, and representation! May 6 is officially Love Day in the City of Los Angeles and we couldn't have done it without you all. We are proud of the commUNITY we've built together — this is the "FRUITS OF OUR LABOR."
Read Article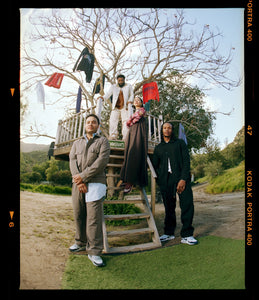 Kids Of Immigrants x Nike x Dover Street Market
Nike and Kids of Immigrants have joined forces to creative direct a community driven campaign that highlights one of the core values of the brand, Support Your Friends.
Read Article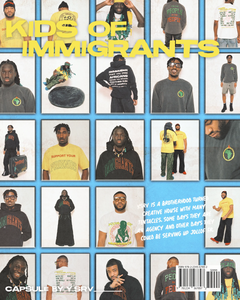 Y.SRV Collection
For this capsule we teamed up with Y.SRV__, a creative collective we believe is helping push this message forward in their own unique way. Y.SRV__ is a first generation brotherhood of African kids using their creativity to bridge the gap between Africa and America to promote unity amongst the global diaspora.
Read Article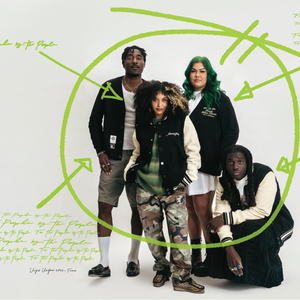 Unified Uniforms
Unified Uniforms was brought to life by our team, with the vision of creating everyday pieces that have our key messaging in a more subtle, classic and timeless way — the essentials to the KOI Uniform.
Holiday 2022 Collection
Our commUNITY is cut from different fabrics, but together we make a beautiful whole. This holiday season we cooked up some special things with you all in mind. Brought to life by our dear friend Angella Choe and her lovely family and friends. This is commUNITY, this is family, this is KOI!
Read Article