Holiday 2022 Collection
Our commUNITY is cut from different fabrics, but together we make a beautiful whole. This holiday season we cooked up some special things with you all in mind. Brought to life by our dear friend Angella Choe and her lovely family and friends. This is commUNITY, this is family, this is KOI!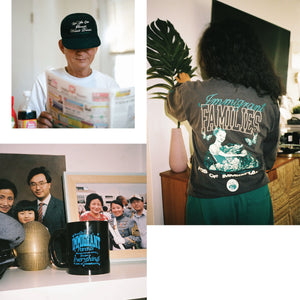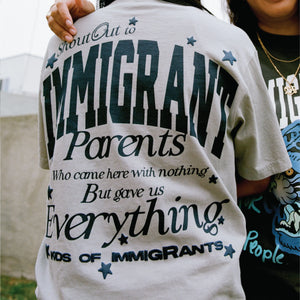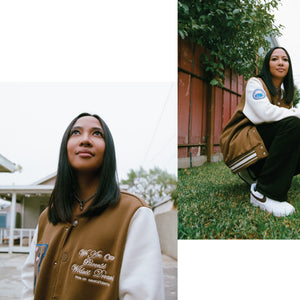 Interview by Evelyn Gonzales
Photos by Angella Choe
This past year, we've grown in unimaginable ways. As we continue to move forward in our journey as a brand, our main goal remains: to highlight the stories of kids of immigrants in our communities. Our CMO, Debbie, had the pleasure of meeting Angella Choe at a heartfelt dinner hosted by Generó Neutral a couple of months ago. Fast forward to our Holiday Collection, we brought Angella on to help us to tell her story as a Korean American photographer/director based in LA.
Angella Choe | @angellachoe, Photographer for our Holiday Collection
What's your wildest dream?
I'm currently living my wildest dreams. I never thought I could turn my passion into a business - launching my own studio, working for myself being a woman CEO, and empowering others by opening doors for people who wouldn't have access in this space otherwise. Now I need to make bigger dreams because I'm currently living my wildest dreams.
Who's your biggest inspiration?
Virgil Abloh
At Kids of Immigrants we love to photograph real people and authentic stories in our collections. We refer to them as "role models", people that we look up to and inspire us. Angella creative directed our Holiday 2022 collection, she brought together a few of the people in her life that she considers to be "role models".
Who are the role models that were a part of the Holiday campaign?
My role models are my parents, my friends, all underdogs shattering glass ceilings in their industries, and really any immigrant around the world who has persevered through the hand they were dealt to create a life for themselves against all odds. Anyone pushing the needle and following their wildest dream is my role model.
What do they do? How did they inspire you?
My parents sacrificed their life and moved to the United States with absolutely nothing in their pocket for a better life to make generational strides. My dad joined the U.S. army and my mom worked at the post office - both entry level government jobs because these were the one of the few accessible jobs for immigrants that they could find. They barely spoke English. But I remember growing up, they would study so hard to learn English at home and eventually became fluent. I watched my parents realize that becoming their own boss and building their own businesses was the real Dream. They have always encouraged me to follow my non-conventional dreams because they wanted me to dream big and that anything is possible.
DIANE ABAPO | @dianeabapo
I am a Chinese-Filipino first generation Asian-American living in West Adams, Los Angeles, in a duplex that is just a few blocks from the original home where my dad and his mother lived in 1976. My dad's mother was one of the first Filipino students, on an international student visa, who graduated from USC in 1955. My dad would graduate from the same university two decades later in 1979. Education and maintaining a sense of curiosity have always had the utmost importance to me. Equally, I'm forever indebted to my mother, a working nurse who retired early when she was diagnosed with lupus and my maternal grandmother, who lived with me and my parents since I was born. I'm both an eternal student and a humble human being who has strived to maintain the same respect, resilience and values that all four of these immigrant individuals passed onto me.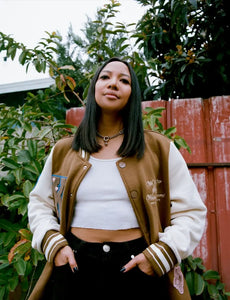 LESLIE CORPUZ | @_lesliecorpuz
My mom will always be my world–and everything I accomplish in life is for her. She immigrated from the Philippines to America not knowing what to expect and endured tremendous hardships. Through it all, she did everything in her power to ensure that I succeeded in life. With little to no knowledge of the creative space, she was hesitant to accept my career path–both in fashion production/buying, entertainment and now brand partnerships–but eventually became my biggest cheerleader. Today, I feel her presence and can say wholeheartedly that she would be proud of what I've built for myself and who I surround myself with.
For me, another way of saying family is community. My community is my chosen family. I've come across so many talented, strong and inspiring individuals who have influenced me in one way or another. They've been my shoulder to cry on in the most difficult of times and the most uplifting and supportive during major milestones. I'm grateful for my community because they continuously show up and push me to be a better version of myself.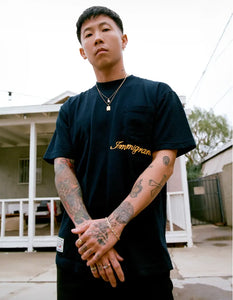 MIKO LA | @mikonotnice
Not only were my parents immigrants but they were refugees.
They endured. They struggled. They did everything they could to survive so that I can thrive today. Even though we don't see eye to eye. I'm grateful for them.
What inspires me to do what I do today is simple. It's people. It's different cultures. It's curiosity of what's out there. It's telling people's stories and sharing them with others. I am in a unique position to uplift and spotlight individuals from around the world, putting them in the perfect place, medium, or platform to shine.
Community is everything to me. It took me a long time to find my people but now that I have I feel seen. It's important to have people around you that you can identify with and navigate this crazy journey of life.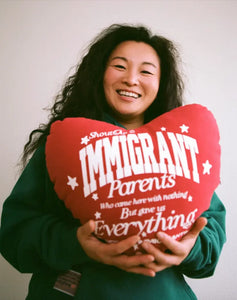 EVELYN ZHANG | @evelynzhang
I was born in Shanghai, China and my life trajectory and destiny was changed when my father received the opportunity to study for a master's at Harvard University in Cambridge, Massachusetts. Our family was separated those first few years as my parents worked to earn enough money to reunite our family. Eventually, my grandmother brought me from China to America to be with my parents, where we stayed in Boston until I went to college.
Having the opportunity to attend West Point, the United States Military Academy, was a full circle moment where I could serve the country that gave my parents & I the opportunity to chase our dreams and achieve an improved quality of life.
From graduating Airborne School to deploying to Afghanistan, to watching me walk the red carpet at the Cannes Film Festival, I wouldn't have been able to achieve any of these moments without my parents' support and sacrifice.
BIN NGUYEN | @binxnguyen
As a first generation Vietnamese-American, my community is the most important thing in my life.
My entire life changed when I left my hometown of Sa Đéc, Việt Nam and relocated to San José, California at the age of 8 years old. My parents brought me and my sister to the States with the hopes for us to achieve a better future. I spoke not a single word of English and had never seen such a diverse world of people.
18 years later, my life is now filled with the diverse people that once fascinated me. I'm eternally grateful for my parent's sacrifice of leaving their beloved home. As a result, my family and friends have shaped me to be the person that I am. Without my community, I would have never mastered the second language, built a support system and found my confidence.
Thank you to Angella for bringing to life such a beautiful campaign. We do this for our families, our friends, our communities. Happy holidays from the KOI family to everyone out there. ❤️